Truth Be Told – Part 1
We now have some firm information on Greyson's new EP "Truth Be Told – Part 1". The EP will be released on October 29, 2012 throughout Asia where Greyson will be making several promotional appearances in early November.  However, the rest of the world will have to wait a little while before being able to get their hands on a physical copy of the EP. In a spreecast specifically for his U.S. fans, Greyson announced that the label has decided to delay the release of the physical EP in the U.S. until late December or early January 2013. He did not say why this decision had been made, but did assure U.S. fans (and fans around the world) that all 5 songs from the EP will be uploaded on to his YouTube channel so that everybody can hear the songs at the same time even if the album isn't available for purchase in your country.
Greyson also released even more information about the forthcoming EP on Twitter this evening. He tweeted both the cover of the album featuring the much-loved picture of Greyson in a leather jacket that was taken a few months ago by photographer Joey James and the tracklisting which can be seen below.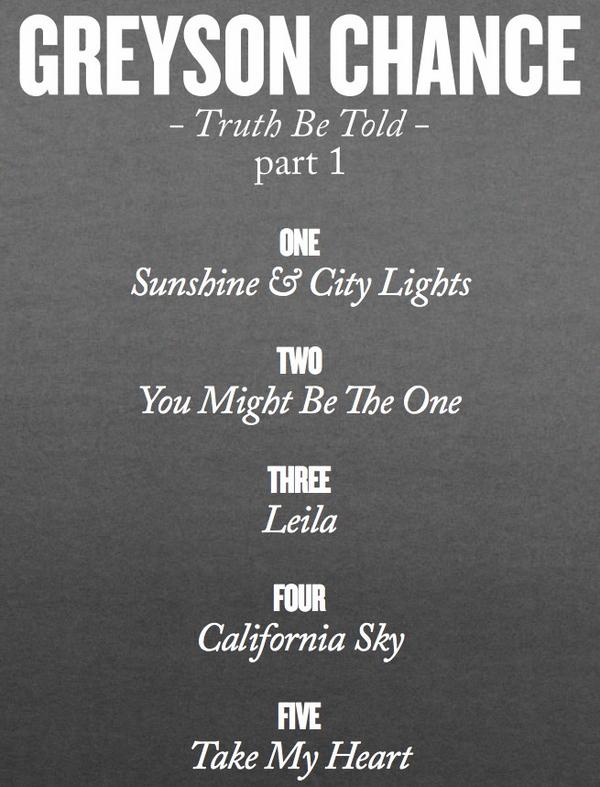 Stay tuned to 'Til The Night and The Greyson Chance Forum for the latest information on Greyson's new EP and his forthcoming second studio album "Truth Be Told – Part 2."